Will the push to EVs be a business-building boon or a doomed-to-irrelevance bust to our auto manufacturing sector?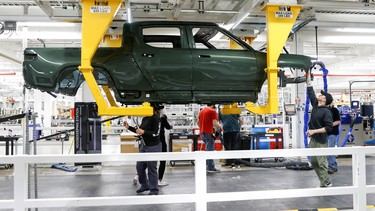 Article content
The stakes are huge. Get it wrong — as in, treat our industry policy, as we so often do, as but a necessary evil — and our Canadian auto industry will sputter, along with the 79,000 or so jobs that sustain the roughly two million cars, trucks, and SUVs we used to produce before the pandemic. Get it right, and that number could swell to more than 322,000 high-income, value-adding, tax-paying jobs directly related to the auto industry. Of course, that would require an almost mythical combination of government-business cooperation, a massive reduction in governmental bureaucracy, and a rapidity of innovation we've seldom seen in Canadian industry.
Article content
Nonetheless, the numbers are astonishing. In the first scenario — the status quo, if you will — the auto industry's contribution to the GDP is roughly $15 billion. In the more optimistic projection — let's call that one "all hands on deck" — the auto industry, either directly or indirectly, contributes some $60 billion to Canada's bottom line. Even those socialists forever decrying big business should rejoice over the possibility. In case one, the governments of the land collect but $2.7 billion in tax revenue. In the best-case scenario, their coffers swell by some 11 billion social-policy-fulfilling bucks.
Register for our free Driving into the Future virtual panel!
And it all depends on one thing: electrification. Or, more specifically, whether Canada gets off its duff and becomes a part of the electric-vehicle manufacturing revolution that's sweeping North America.
Article content
At least that's what the Trillium Network for Advance Manufacturing's Developing Canada's Electric Vehicle Battery Supply Chain: Quantifying the Economic Impacts and Opportunities report seems to say. And it doesn't matter if you believe, as our federal government does, that all cars sold in North America by 2035 will be fully battery-electric. Or that, like Motor Mouth, you think there will be a healthy market for hybrids and PHEVs for quite some time.
The one common factor is that the car of the future will be electrified. More importantly, at least to any discussion of the health of the Canadian auto industry, they will all need batteries of some sort, and the auto industry is going to need new supplies of raw materials on an unprecedented level. It's a transformation that will, as Brendan Sweeney, the managing director of Trillium, says "require a level of government support — and political willpower — that we have not seen since the 1960s."
Article content
That would seem to make François-Philippe Champagne, the Liberal government's Minister for Innovation, Science, and Innovation — and the man charged with pumping up Canada's EV manufacturing abilities abroad — the most important person in the Canadian auto industry right now.
And, so far, he's doing a pretty bang-up job with his mines-to-mobility messaging. According to La Presse, since Champagne took up the portfolio some 22 months ago, at least 10 companies have announced investments to build EVs in Canada, manufacture the batteries that power them here, or extract from our mines the all-important minerals those lithium-ion cells need. Those agreements total, says La Presse, an impressive $15.7 billion.
Article content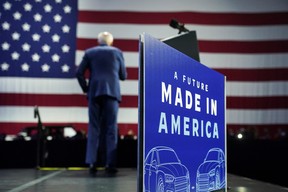 There is a fly in the ointment, however. It's called the Advanced Manufacturing Production Credit. Officially, it's section 45X of President Biden's signature Inflation Reduction Act and, without revisiting the entire discussion — Motor Mouth has already covered the IRA extensively — the ultra-protectionist legislation so generously incentivizes locating battery cell plants in the U.S. that it's hard to imagine Canada getting any new manufacturing facilities in the next 10 years.
How generous, you ask?
Well, if the IRA were enacted as currently written — and, yes, our government, as those of other car-producing countries, is negotiating for changes — the American government would give battery manufacturers US$45 for every kilowatt-hour of lithium-ion cell and module they produce over the next ten years. Only, of course, if said plant is in the United States.
Article content
So, just as an example, if Stellantis — which signed its intent to build a battery plant in Windsor before the Inflation Reduction Act was signed — had decided to locate its proposed $5-billion facility in Michigan instead of Ontario, it would be eligible for that US$45/kWh tax credit for every one of the 45 gigawatt-hours of lithium-ion it plans to manufacture annually.
A bit of simple math says that a similar plant, built just south of our border, would recoup up to US$2 billion — each and every year! — from the time the plant is projected to open in 2025 until 2032, thanks to that credit. In a worst-case scenario, if the IRA is enacted as written, it will be an overwhelming dis-incentive to building new cell manufacturing plants here in the Great White Frozen North. At the very least, it's a serious monkey wrench in the federal government's mines-to-mobility vertical integration.
Article content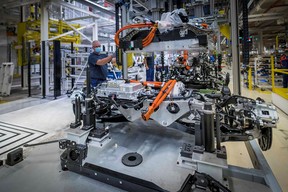 So, what does that mean for Canada? Will Canada will be left out of the electrification revolution? Is the Canadian auto industry doomed to irrelevance?
Not quite. As Sweeney tells it, even in his company's best-case scenario, Trillium didn't project having more than three major battery plants come to Canada. By comparison, he says we have some 10 major car assembly facilities. So, while it would be fair to say that the possibility of losing battery cell facilities in Canada is not exactly welcome news, what is crucial is keeping those aforementioned car assembly plants humming.
Equally important will be building a component-sourcing economy that goes beyond Canada's too often decried, but seldom resolved, role as mere exporter of raw materials. For that we need to be processing those raw minerals — and, according to Sweeney's report, Canada is the only country in the western hemisphere with known reserves of all the minerals necessary to manufacture EV batteries — into the final materials used in building various battery components. If we simply mine nickel from Sudbury, Ontario and then ship it to, say, China (which, by the way currently processes more than 80 per cent of the raw materials used in battery manufacturing globally) then we're no better off than we are now, exporting the vast majority of Canadian crude to the United States, where it is processed into high-priced gasoline, which they sell back to us at a fantastical markup.
Article content
Motor Mouth: Is this how Canada becomes an EV superpower?

Motor Mouth: The 'EV frenzy' of battery manufacturing is passing Canada by
If, however, as Sweeney notes, that Sudburian nickel instead went to GM's Bécancour, Quebec plant and is processed there into cathode active material, the economic benefit to Canada would be sixfold compared with just "ripping it and shipping it" abroad. That's more money in local economies, and more jobs that stay here in Canada instead of being sent overseas. Additionally, it may even have positive environmental impacts, says Mark Adams, SNC-Lavalin's vice-president and global mining market lead, who is convinced that materials processed in Canada are strictly monitored for environmental-friendliness, something, he says, "is not always assured" in other jurisdictions.
Article content
The car of the future will be electrified, they will all need batteries of some sort, and the auto industry is going to need new supplies of raw materials on an unprecedented level
Two points would seem obvious in all of this. The first is that the IRA and 45X, as onerous as they may be in discouraging automakers from establishing battery manufacturing plants in our fair country, does not mean we will be shut out of the electric-vehicle business. That is, of course, if we get off our asses and promote the industries we can compete in.
The second is that we very much need to up our game in the mineral processing business. Canada is well-established as a source of raw materials. Indeed, as Motor Mouth has previously recounted, the federal government — Minister Champagne and Prime Minister Justin Trudeau — recently signed agreements with Volkswagen and Mercedes-Benz to fuel their plans to build more EVs.
Article content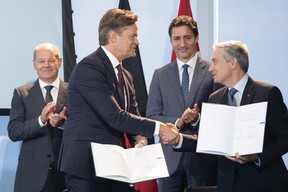 But those memorandums of understanding are for raw materials only. For the upcoming transformation from fossil fuel to electric to be meaningful to Canadian industry, we must do more than just trade crude oil for raw lithium. We need to become a part of that rarefied infrastructure that provides the value-added processed products automakers will need going forward. For that, we're going to need an incredible amount of private investment, a reduction in government bureaucracy, and every little bit that "political willpower" Sweeney talks about.
Author's Invitation: This discussion of how to become an EV manufacturing superpower is probably the most important discussion the Canadian auto industry has faced in a lifetime. That's why Driving Into the Future is dedicating an entire panel to discuss what a battery-fueled expansion of our auto industry might look like. If you're interested in learning more, click here to register for our free DITF panel at 11:00 am, November 30. Along with Trillium's Brendan Sweeney and SNC-Lavalin's Mark Adams, we'll be joined by Scott Mackenzie, director, Corporate & External Affairs, Toyota Canada; and David W. Paterson, vice-president, Corporate & Environmental Affairs, General Motors of Canada.
link