Carson Kvapil had been close to a win at South Carolina's Florence Motor Speedway on multiple occasions, but a poor showing in February's Icebreaker made it seem like that win was much further away than he had thought. However, those feelings only lasted a month as Kvapil finally scored a win at Florence with the CARS Tour in Saturday's Aaron's 125.
Live Now · Mar 25, 11:00 PM UTC
2023 CARS Tour at Florence Motor Speedway
The defending CARS Tour champion didn't have the best qualifying effort, but he saved enough tire to slowly and methodically work his way to the front of the field before the conclusion. Kvapil had enough tire left to out muscle Brenden Queen on a late-race restart to take the checkered flag.
Winning Quote From Florence Motor Speedway
"It's all pretty cool because I knew we had a pretty good lead on everybody else. I kind of figured that me and (Brenden Queen) were the class of the field, at least at that point of the race. I was trying to get under him. I feel like I hit him ten times in the center of the corner, but I could never get him to move up the hill. It was fixing to be a really good race there with me and him, but the caution stopped us from being able to do that so we just had to finish it with the restart." –  Carson Kvapil
CARS Tour At Florence Motor Speedway Highlights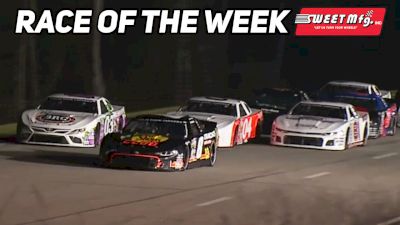 Video: Watch highlights from the CARS Tour Aaron's 125 from Florence Motor Speedway.
CARS Tour At Florence Motor Speedway Results
| | |
| --- | --- |
| Pos. | Driver |
| 1 | Carson Kvapil |
| 2 | Brenden Queen |
| 3 | Ronnie Bassett Jr |
| 4 | Connor Jones |
| 5 | Jacob Heafner |
| 6 | Mini Tyrrell |
| 7 | Bobby McCarty |
| 8 | Ryan Glenski |
| 9 | Cody Kelley |
| 10 | Bryant Barnhill |
| 11 | Chad McCumbee |
| 12 | Jared Fryar |
| 13 | Connor Hall |
| 14 | Zack Miracle |
| 15 | Carson Brown |
| 16 | Brandon Pierce |
| 17 | Deac McCaskill |
| 18 | Dylon Wilson |
| 19 | Lanie Buice |
| 20 | Joshua Dickens |
| 21 | Landon Pembelton |
| 22 | Andrew Grady |
| 23 | Tate Fogleman |
| 24 | Cale Gale |
| 25 | Chase Burrow |
| 26 | Blake Lothian |
| 27 | Ryan Millington |
| 28 | Cameron Bolin |
| 29 | Isabella Robusto |
| 30 | Ryan Wilson |
| 31 | Jason Kitzmiller |
| 32 | Mason Diaz |
Current Points Standings (After Florence)
| | | | |
| --- | --- | --- | --- |
| Pos. | Driver | Points | Deficit |
| 1 | Carson Kvapil | 68 | – |
| 2 | Brenden Queen | 58 | -10 |
| 3 | Jacob Heafner | 55 | -13 |
| 4 | Deac McCaskill | 51 | -17 |
| 5 | Connor Hall | 49 | -19 |
| 6 | Bobby McCarty | 49 | -19 |
| 7 | Ronnie Bassett Jr. | 47 | -21 |
| 8 | Chad McCumbee | 44 | -24 |
| 9 | Jared Fryar | 42 | -26 |
| 10 | Mini Tyrrell | 40 | -28 |
| 11 | Ryan Millington | 36 | -32 |
| 12 | Brandon Pierce | 36 | -32 |
| 13 | Chase Burrow | 32 | -36 |
| 14 | Zack Miracle | 32 | -36 |
| 15 | Andrew Grady | 31 | -37 |
| 16 | Kaden Honeycutt | 30 | -38 |
| 17 | Landon Pembelton | 30 | -38 |
| 18 | Conner Jones | 29 | -39 |
| 19 | Mason Diaz | 27 | -41 |
| 20 | Tate Fogelman | 26 | -42 |
| 21 | Carson Brown | 26 | -42 |
| 22 | Cody Kelley | 26 | -42 |
| 23 | Dylon Wilson | 25 | -43 |
| 24 | Ryan Glenski | 25 | -43 |
| 25 | Cale Gale | 23 | -45 |
| 26 | Bryant Barnhill | 23 | -45 |
| 27 | Cameron Bolin | 20 | -48 |
| 28 | Josh Dickens | 19 | -49 |
| 29 | Blake Lothian | 16 | -52 |
| 30 | Lanie Buice | 14 | -54 |
| 31 | Jonathan Findley | 12 | -56 |
| 32 | Jason Kitzmiller | 9 | -59 |
| 33 | Jody Measamer | 5 | -63 |
| 34 | Ryan Wilson | 4 | -64 |
| 35 | Isabella Robusto | 4 | -64 |
| 36 | Brian Obiedzenski | 2 | -66 |
| 37 | Jessica Cann | 2 | -66 |
CARS Tour 2023 Season Schedule
| | |
| --- | --- |
| Date | Track |
| April 22 | Hickory Motor Speedway |
| May 5 | Ace Speedway |
| May 17 | North Wilkesboro Speedway |
| May 27 | Tri-County Speedway |
| June 3 | Langley Speedway |
| June 17 | Dominion Raceway |
| June 28 | Caraway Speedway |
| July 29 | Hickory Motor Speedway |
| August 11 | Ace Speedway |
| August 26 | Wake County Speedway |
| Sept. 9 | Goodyear All American Speedway |
| Oct. 7 | South Boston Speedway |
| Oct. 21 | Tri-County Speedway |
| Nov. 4 | Caraway Speedway |

link