China claims it's reached "peak gasoline," signalling the decline of internal combustion and the rise of the EV—but just how sustainable is that growth?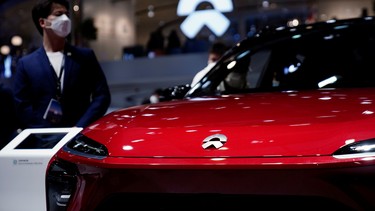 Article content
Those who do not learn history are doomed to repeat it.

George Santayana, Harvard philosopher and author of The Last Puritan
China's Sinopec recently announced that the Middle Kingdom had reached — or would soon reach — a state of "peak gasoline." Going forward, the world's largest oil refiner said, the sale of gas in that country would decline, perhaps even precipitously.
Article content
The credit, as the headlines all screamed, is China's rapid adoption of battery-powered electric vehicles. With "new-energy" vehicles — EVs and plug-in hybrids — expected to account for some of 37 per cent of the country's 25 million or so sales predicted for this year, the implication was that, in China at least, the age of fossil-fuelled internal-combustion was rapidly coming to an end.
The inference, as has been long suggested in some corners of the mainstream media, is that we should become more like China. Hell, one cockamamie opinion piece — in Postmedia's own Toronto Sun, no less — suggested that we should welcome cheap Chinese BEVs and batteries to our shores, the sacrifice of our auto industry but a pittance in the quest for greenhouse-gas reduction.
Article content
Addle-headed surrender notwithstanding, China's thirty-year economic expansion has led to a lot of people to wonder: Should we follow a similar business model?
Motor Mouth Podcast: Will EV battery subsidies doom the North American auto industry?

Motor Mouth Podcast: Room temperature superconductor, Rimac's hypercar and Musk's long nose
The answer to that most complicated of questions depends very much on what you think is feasible both economically and sociologically. For instance, if one could — as so many articles imply, but never explicitly say — somehow segregate China's battery production and bring just it to North America, then, yes, absolutely, that would be a wonderful thing.
Chinese battery manufacturing — especially that of world leader CATL — is far in advance of our own, especially when it comes to the production of the low-cost LFP lithium-ion batteries that will be essential to expand the draw of EVs to consumers beyond the spoiled rich that zero-emissions vehicles now attract. Throw in virtual world domination of the rare-earth minerals essential for the most powerful and efficient of electric motors and, yeah, the Chinese model looks pretty darned enviable.
Article content
The problem, of course, is that it's impossible to carve one specific industry out of a country and simply plump it into another. Automobiles may make the world go 'round, and battery production may be the biggest boom the auto industry has seen in decades, but they are still but a cog in an otherwise sprawling economy. And unfortunately for the why-can't-we-be-more-like-them crowd, there's absolutely no way we can adopt the Chinese economic model that is essential to its leadership in electric vehicles.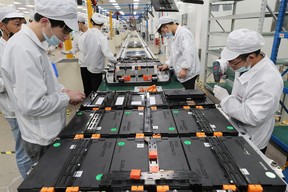 For one thing, the wages Chinese automakers pay their workers wouldn't sustain a McDonald's kitchen worker over here. Worse yet, it seems that, even with their huge wage advantage — economists call that "human capital" — Chinese electric automakers, threatened by Tesla's cost-cutting, have started to treat their workers even worse, Reuters recently reporting that some part suppliers have even started resorting to reducing their factories' air conditioning in the quest of even lower-cost production.
Article content
Yes, all you liberal apologists, the road to that gasoline freedom that you so gloriously worship comes on the back of literal sweat-shops. I won't even mention the lax environmental standards involved in the Chinese production of rare-earth metals, or how toxic said rare earths are, lest I upset your karma too much in one sitting.
More problematically, the wheels seem to be coming off the Chinese economy. What has long been seen as the Chinese economy's greatest strength — its top-down economic engineering — is now being compared to the disaster that became of Japan. For those of you not old enough to remember — or, as Santayana so aptly postulated in the quote at the top, haven't bothered to learn — the Japan of the '80s was lauded with much of the same shouldn't-we-do-like-they're-doing before the bottom dropped out of their economy for, oh, about 30 years. Now, says Richard Koo, chief economist of the Nomura Research Institute — and an expert in "the aftermath of financial excess," says The Economist — "I've been getting tonnes of calls from Chinese journalists, economists, investors, and sometimes policymakers asking me, 'Are we going the way of Japan?'"
Article content
Making matters worse — for both its domestic prosperity and our global economic health — the Chinese economy, as we're often told, has never run on domestic consumption, as the country's populace are ardent savers and/or investors. The country's overheated real estate market — the same crisis that foretold Japan's long economic stagnation, by the way — has seen even their already tight-fisted spending habits turtle, so anyone thinking that Chinese domestic-car sales, the second largest expenditure after homes, is going to save its domestic economy is dreaming.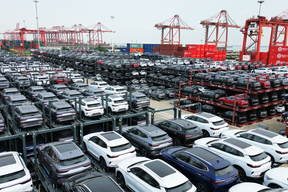 What will most definitely happen is that China, as it always does, will try to export its way out of the problem. Or, as the The Economist so succinctly puts it, "Chinese automakers are boosting exports to counter slowing domestic demand."
Article content
The good news for us is that, at least temporarily, we should not be the targets of China's EV-export boom. The bad news, especially if you have family or investments across the pond, is that the E.U. already is. Indeed, in a recent speech, BMW CEO Oliver Zipse opined that there's no way for their domestic auto manufacturing — hobbled by even more powerful unions than we North Americans' — to transition quickly enough to compete with the massive influx of cheap Chinese EVs. Buoyed by a price advantage of some 10,000 euros per car — that's almost CDN$15,000 — PricewaterhouseCoopers expects Europe to import some 800,000 Chinese-built EVs by 2025.
In fact, according to Barron's, things have gotten so bad — BYD's sales in Europe increased an incredible 323 per cent in the first half of this year — that the European Commission has launched an "anti-subsidy" investigation into China's predatory pricing of EVs, the commission's president, Ursula von der Leyen, saying that "global markets are now flooded with cheaper electric cars and their price is kept artificially low by huge state subsidies." By some accounts, that subvention totalled over US$100 billion dollars between 2009 and 2019.
Article content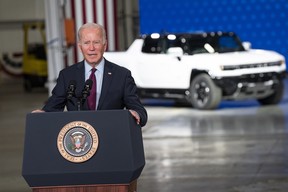 The worst thing about what Barron's calls "this subsidy spat" is that the United States — and, by association, Canada — is, in fact, already copying the Chinese business model of living beyond our means. As Motor Mouth has often pointed out, President Biden's recently-instituted Inflation Reduction Act is really nothing more than a giant subvention of the American auto market, its unstated — but well-acknowledge — goal being to counter China's global EV export assault.
And while the impetus is no doubt laudable, the IRA's clean energy initiatives will cost America somewhere between US$300 and $500 billion over the next ten years. Canada, meanwhile, will probably be on the hook for some CDN$60 billion trying to match America's largess, a number the Parliamentary Budget Officer recently said would take the federal and provincial governments 20 years to pay off, not the five years they original promised.
Article content
So, for all those wondering why we don't adopt the Chinese business model, we kinda already have. God help us all.
---
Author's note: Before I sign off, a few more thoughts on the concept of "peak gasoline." Even if Sinopec's "peak-gas" prediction does come true, it doesn't capture the hypocrisy of China's claims. You see, even if they do somehow manage to cut their gasoline consumption, Chinese oil imports are literally booming. In fact, according to Energy Intelligence, Chinese oil consumption use just set yet another new record in April, breaking through the 16-million-barrels-per-day mark, which puts it well on its way to surpassing America not only as the most prolific car market, but also the most egregious consumer of fossil fuel.
Article content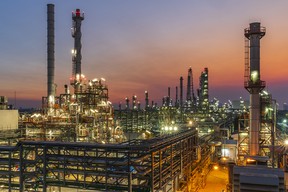 And, lest we forget, way back in 1974, prominent industry geophysicist Marion King Hubbert famously predicted that oil production would peak in 1995. The world's total oil consumption in 1995, by the way, was a little over 70 million barrels per day (bpd). Meanwhile, on September 12 this year, the U.S. Energy Information Administration (EIA) projected global oil output would hit 101.2 million bpd in 2023.
Besides, Hubbert's erroneous prognostication is but the most famous of more than a dozen significant predictions regarding peak oil over the years, the first going all the way back to the Pennsylvania oil fields of the 1880s, another following in the aftermath of the First World War. That hasn't stopped Sinopec chairman Ma Yongsheng, he who claimed that peak gasoline was nigh for China, from predicting that oil demand will decline globally after 2030.
Article content
And finally, save a kind thought for Europe's auto industry. Automakers are famous for crying wolf at the slightest suggestion of a bumpy economic road, but this time European brands are facing seemingly insurmountable American subsidization of domestic battery production and a daunting wage disparity with China, all while plagued by the strongest unions — especially in Germany — in the world. As has long been promised, the transition to battery power will result in a huge shake-up of the auto manufacturing status quo… but it probably won't have anything to do with technological advantages.
link