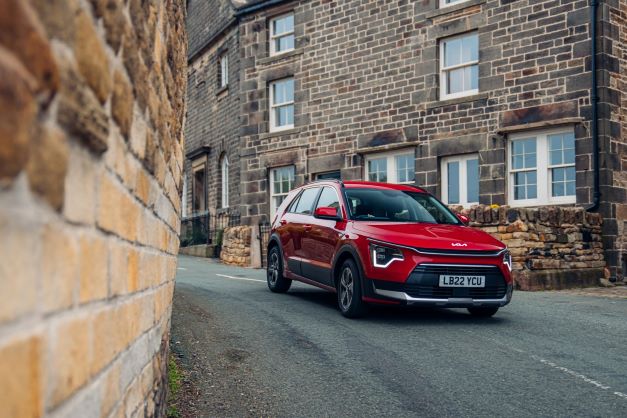 Kia's NIRO PHEV, from a redesigned, all electrified (hybrid, PHEV and EV) small SUV model line launched last year to replace the original first seen in 2016, does not quite behave like other PHEVs I have reviewed in the last few years. At least in the depths of a British winter.
Those other PHEVs, almost to the SUV, were all but silent on switch on (almost universally these days it's prod Power button and wait for the Ready light though this entry level, '2' grade Niro still had an old fashioned twist-in-the-lock key which folded out from a remote control fob). Initial progress was usually by electric motor(s) but this new Kia PHEV immediately fired up its 1.6-litre petrol engine which hummed away at a set 1400rpm speed in the background (similar to some full hybrids on start-up from cold) while the electric motor actually propelled the car through a six-speed automatic transmission with conventional lever shifter.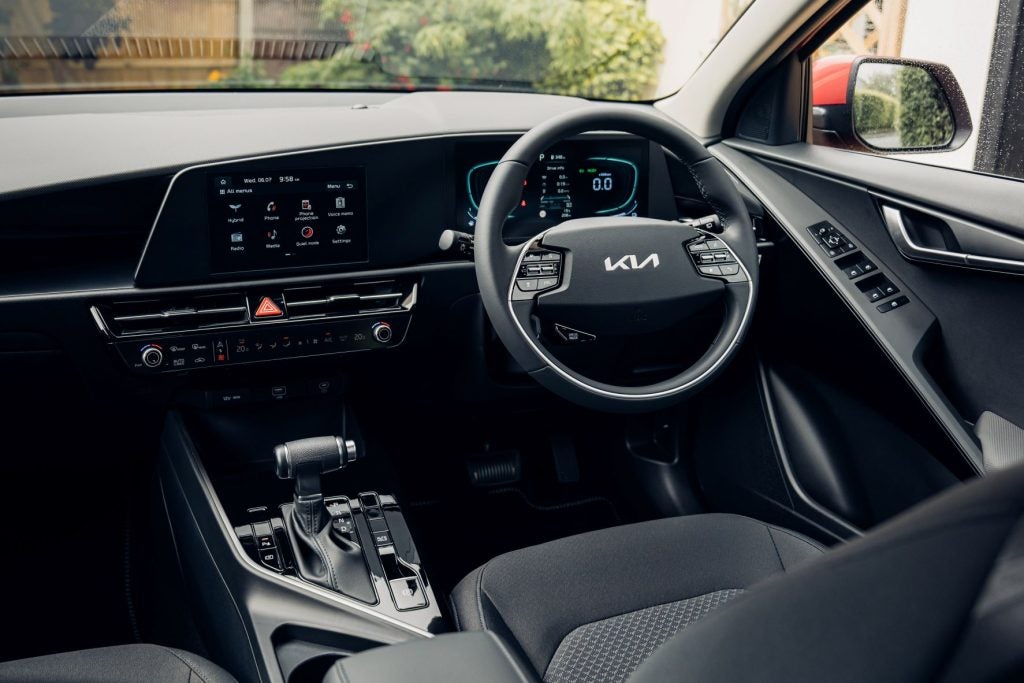 Some experimentation established the ICE usually engaged as soon as the HVAC was switched on (presumably to provide hot coolant to the heater matrix) but the fast idling engine took an age to warm up (it has a separate temperature gauge in the digital display), as did the cabin. Once everything had, finally, heated up a bit, the ICE would cycle on and off and it would also, as is normal with hybrids, engage to boost the electrics under hard acceleration.
I suspect the '2' PHEV trim level is specified down to a price as the '3' and '4' are the first Kias to have parent Hyundai Motor Group's new 5.5kWh, high volt, Positive Temperature Coefficient (PTC) heater, enhancing electric only performance in colder conditions. The self regulated ceramic elements provide cabin heating to complement the HVAC heating matrix and ensure a continuous flow of warm air, Kia claims, which would probably deal nicely with the lack of cabin heat in the '2' until the ICE warms up enough.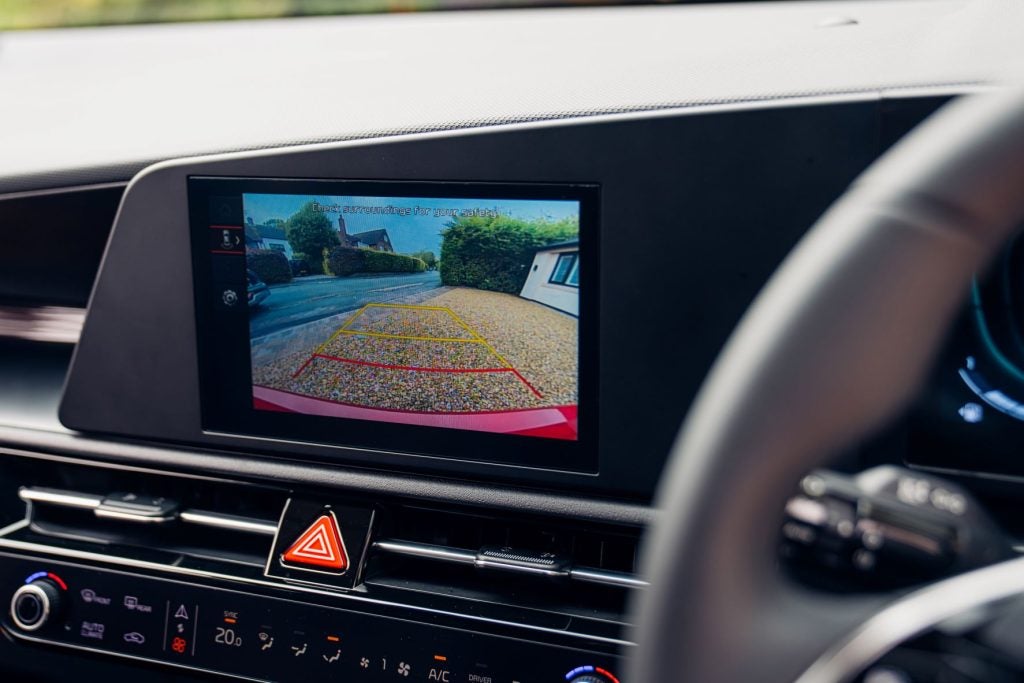 There, for me, with this '2' version, is the rub. Most of my driving involves short trips of one to three miles and rare excursions over 20. So a PHEV which, almost silently, does all the local running about almost always on electricity alone (unless rapid acceleration is needed or the traction battery runs out), with said electricity 'refuelled' conveniently at home from my current fixed rate domestic supplier, has considerable appeal.
Kia quotes an EV range of 38-40 miles depending on trim (I got 40) and a 3.3kW AC, 15%-95% recharge time of just under three hours. Charging at home from 'empty' using a three pin domestic plug overnight took 7-8 hours which was quite acceptable.
Powertrain
The 1580cc, GDi (gasoline direct injection) plus electric motor PHEV powertrain develops a combined 180bhp and 265Nm of torque with CO2 emissions of 18g/km. Combined WTLP fuel economy varies by trim level: 283mpg-353mpg! Innovations for this second-generation GDi engine include low friction ball bearings, transmission gears optimised for efficiency, and – this is new – the removal of reverse gear which saves 2.3kg alone. Reverse is instead courtesy of the electric motor, helping to eliminate tailpipe emissions during such manoeuvres.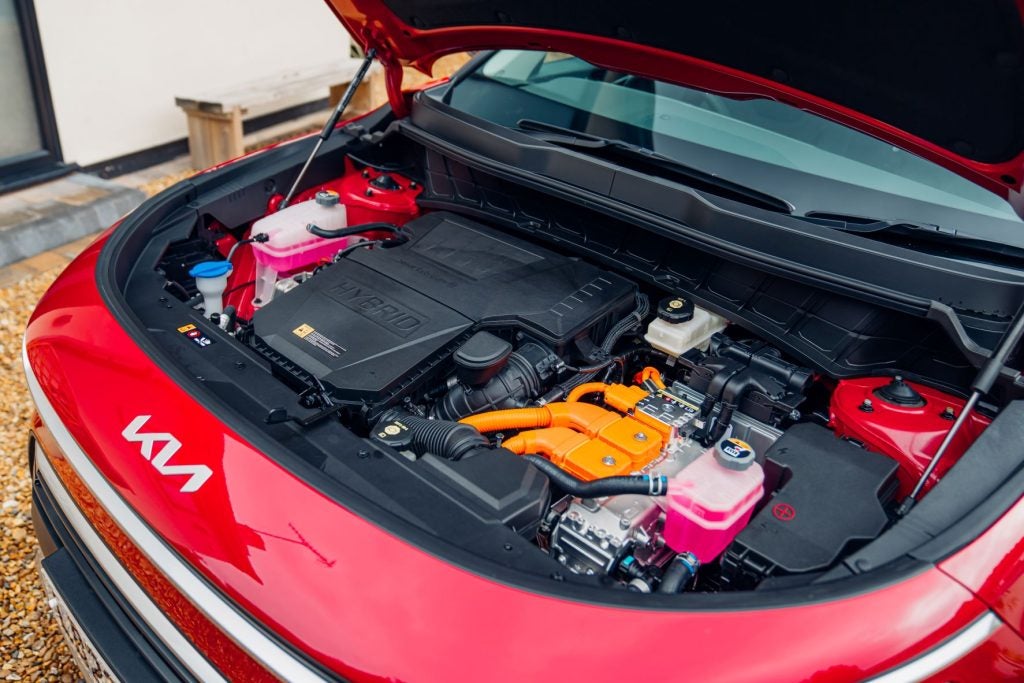 Battery pack is a 360 volt, 11.1kWh Li-ion polymer pack made up of 96 cells weighing 111kg and installed under the boot floor. The loadspace was an acceptable size, shape and height and capacity varies by drivetrain – 348 litres for this plug-in hybrid, seats up, and 1,342 litres folded. There's space under a folding boot floor for two hefty charge cables with fittings plus the now almost universal tyre repair kit.
Kia's clearly taken advantage of economies of scale to offer three electrified drivetrains – both hybrid and plug-in hybrid share the petrol engine paired to either a 43bhp (32kW) (HEV) or 83bhp (62kW) (PHEV) permanent magnet synchronous electric motor. They also share the specially developed six speed, dual clutch automatic transmission which operated seamlessly in the reviewed PHEV.
Regenerative braking is also fitted, like all hybrids I have driven. More upmarket Niros (3 and 4) have shifter paddles on the steering wheel and these can be used to adjust the degree of regen. The 2 doesn't but I still occasionally got a message in the instrument display about the paddles when turning regen on (which had to be done for every drive).
At GBP34,075 on the road, as tested, the Kwaseong, Asan Bay, South Korea-built Niro PHEV 2 is a relatively affordable electrified SUV (and a very handy size for narrow British roads and parking spaces).
Popular model line
Kia UK said the first generation Niro was its second most popular model in the UK (third in Europe) with around 78,000 examples sold from the 2016 launch. 2020 UK sales doubled and rose again in 2021 as electrified models accounted for 32% of its tally that year.
The automaker is a keen fleet business player so stresses the Niro EV has a company car BIK (benefit in kind) rate of 2% for the 2022/2023 tax year while this PHEV variant was rated 8% (claimed lower than most rivals).
Like all Kias I have driven, the Niro PHEV required little familiarisation with an adequate range of driver's seat and steering column adjustment plus height adjustment for the passenger and sensibly designed and placedcontrols and instruments. Only one rear seat storage pocket, though. I missed electrically folding door mirrors and steering wheel heat on this 'base' version and all occupants missed heated seats but there were compliments about the amount of rear seat space and the handy USB-C charge ports built into the front seats and accessible in back.
Well equipped
Even entry level Kia brings a heap of standard equipment these days including alloy wheels and solar glass rear side windows and tailgate, automatic headlamps, full LED headlights and day runners, heated mirrors, 'leather' steering wheel and centre console box trim, dual temperature HVAC, electric park brake, 8″ infotainment display plus a 4″ screen with the instruments, USB-A and -C plugs in front (two more USB-Cs in the back), voice operated Apple CarPlay and Android Auto, Bluetooth and a reversing camera. Inbuilt satnav was notably absent but a maps app on a smartphone substituted nicely.
Active safety kit includes forward collision-avoidance assist, city/pedestrian/cyclist/junction turning, hill start assist, intelligent speed limit assist, lane following assist, lane keep assist and smart cruise control with stop/go functionality.
All that seemed a lot of good stuff for the money and reminded me of how quickly many high-tech items which appeared around a decade ago have now filtered down to the 'cooking' models in the range, widening convenience and safety equipment availability to buyers on lower budgets while giving suppliers much increased economy of scale.
The 2022 Niro line, built on the automaker's third-generation 'K' platform, was "entirely redesigned from the ground up to meet the complex and diverse needs of today's environmentally conscious car users", according to Kia at launch time last year, adding: "the compact crossover utility vehicle (C-CUV) segment is one of the most competitive, with a dizzying array of models on offer".
The better specified '3' and '4' models add, in steps, GBP2,000-GBP3,000 to the price (there are also premium paint options) and bring some worthwhile extra equipment like heated seats, connected infotainment, faux leather and a sunroof for buyers on larger budgets.
Those versions, among other things, get standard Kia Connect satnav with an intelligent Green Zone Drive Mode which automates the use of electric power by taking location guidance from the navigation system, learning driving patterns, or can be personalised with manual inputs from the driver. Built-up areas or roads nearby schools and hospitals can be designated as Green Zones where the vehicle automatically switches to electric-only driving to reduce exhaust emissions. The customer can also take control of Green Zones by setting 'custom' areas in which they wish to reduce their vehicle's emissions, such as around their own neighbourhood.
'Path to clean mobility'
Kia Europe president Jason Jeong said at the model launch last year the automaker had "reimagined the Niro to provide potential customers with a clearer path to clean mobility, and the range of eco-friendly powertrains will encourage even the most hesitant customers to make the switch".
In my retiree town in Middle Englande, first and second generation Niros are a common sight, many the full EV versions. After a week with this thoroughly likeable, and practical, entry level PHEV, I can see why.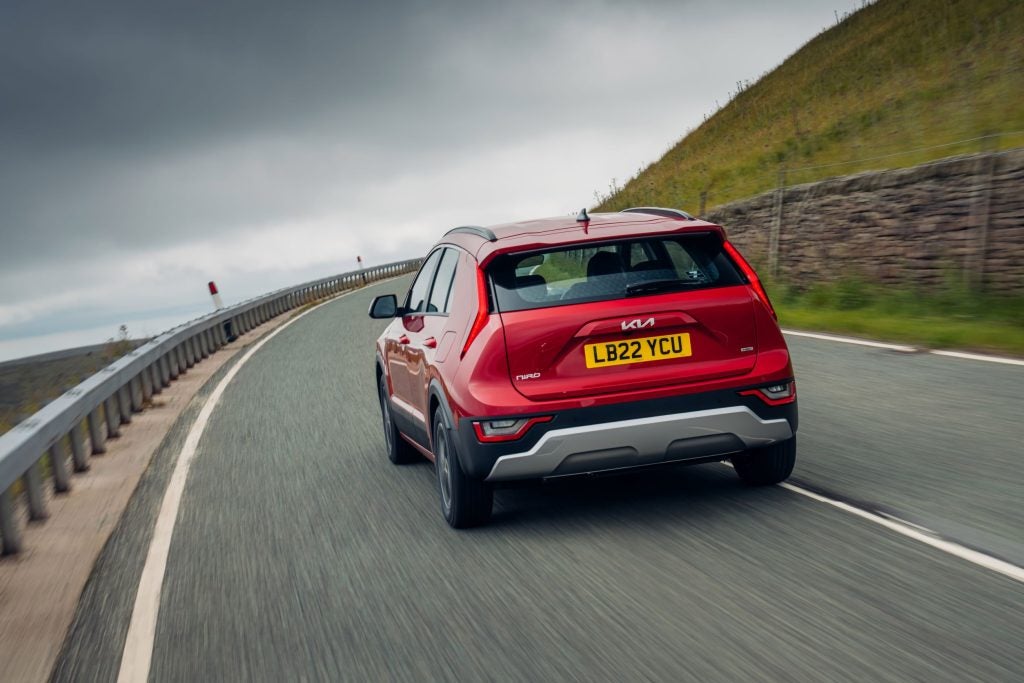 link