The automaker is speeding up its transition to battery power—but with the EV market in retreat, is the timing all wrong?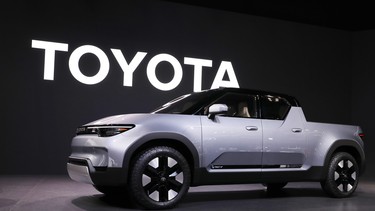 Article content
What a difference four years makes! The last Tokyo Motor Show — held in 2019, just before we "welcomed" the pandemic — was a particularly desultory affair, all gloom and stagnation. It was also woefully devoid of electric cars. Oh, Nissan showed off its Ariya — which, despite claims then of being production-ready, took an obsolescence-guaranteeing three years to get to market — but otherwise, the local automakers seemed skeptical of the EV revolution that other manufacturers were ramping up production for.
Article content
Fast-forward through lockdowns, invasions, and economic conditions confusing enough to give Milton Friedman a splitting headache, and the Tokyo auto show — newly rechristened the "Japan Mobility Show" — was positively vibrating with optimism and flashy new product. More importantly — because we are supposed to be in the clutches of an electric revolution — you couldn't walk five feet without tripping over some sort of battery or another.
Onlookers were positively besotted with Mazda's Iconic SP as it rotated on a turntable overlooked by the very first Miata ever built. The new battery-powered little sportster concept channelled Ferrari's iconic Dino so resolutely that the estate of Sergio Pininfarina — who penned the 246 GT — should probably demand a royalty.
Article content
Recommended from Editorial
Motor Mouth: Exposing the lies EV owners peddle

'Future Toyota' SUV, truck, sports car look production-ready
Subaru took a different approach, its Sport Mobility concept all angular abruptness and bulldog-faced brutality. But even if the company's electric concept couldn't match the organic charm-fest that dominated Mazda's booth, clothing its SVX-on-steroids in some way-trick forged carbon — the very latest in high-fashion structural composites — pretty much guaranteed the audience appreciated, if not quite loved, its angular shapes.
And, while Nissan's Hyper Force may look a little cartoon-ish — it is, without an iota of doubt, totally inspired by Polyphony Digital's Gran Turismo — it's a battery-powered supercar boasting no less than 1,000 kilowatts. That's 1,341 horsepower. There's even some new aerodynamic aid called a "plasma actuator" that's supposed to suppress air detachment and maximize inner-wheel traction during cornering, but that sounds like something for the VR gaming set. Nonetheless, the news we should take from Nissan is that the next GT-R is almost assuredly going to be a BEV.
Article content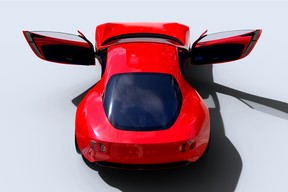 But, as is so often the case in Tokyo, it was Toyota that set the tone for this year's Mobility Show, its expansive display so chock-a-block with battery electrics that one wondered whether the world's largest automaker was making ready to dump the hybrid.
There was the cute-as-a-bug IMV O coffee truck, its organically-grown beans delivered by emissions-free electrons. The EPU pickup looked so production-ready that its tail-lights probably have parts numbers on the service department's fiches already. There was the FT-3e SUV that the company's engineers were claiming — with a sincerity that can only come from a Japanese engineer with a complete devotion to dependability — will boast a range of no fewer than 1,000 kilometres, thank to its batteries' new-fangled prismatic cell structure. There was some sort of moon-rover thingie, some collapsible mobility scooters, and, believe it or not, a wheelchair that can go up and down stairs, all, to the last electron, battery-powered.
Article content
But the star of not just Toyota's booth but the entire show was most definitely the company's Future Toyota Sports electric. Looking like a cross between Lexus' lovely LC 500 and a vintage Maserati, the FT-Se sports the same prismatic-cell batteries as the 3e, but tuned for power rather than energy. If Toyota produces it — and all indications are that it will — it'll finally be able to rid itself of BMW's clumsy remake of the Supra. Throw in a pretty credible remake of the venerable Land Cruiser but writ electric, and in Toyota you have the impression of a once-laggardly EV skeptic finding religion.
There were some holes in all this battery-powered goodness. For one thing, that achingly beautiful little Mazda is a rotary range-extended BEV, the very same powertrain configuration that doomed the MX-30 to inconsequence. The Subie, though doing its credible SVX-on-steroids impression, was marred by the goofiest wheels ever foisted on a concept car. And, I think it might be fair to say that, whenever the replacement for Nissan's iconic GT-R does show up, it won't look anything like the Hyper Force.
Article content
Indeed, the biggest concern in this Japan-is-back-in-the-EV-game mantra is that, other than Nissan's boast of 1,000 kilowatts for the Hyper Force, not a single one of the EVs listed in this story — not the Subaru, not the Mazda, not even a single one of the many Toyotas listed here — boasted any form of technical tidbit detailing their electrical performance. No mention of the number of kilowatt-hours in their floorpans. No boast of the number of kilometres of emissions-free motoring they might eke out. Not even a hint, despite their sporting intent, of the potency of their electric motors (even Nissan's 1,341-hp specification is the maximum output of the battery, not its motors' power).
Indeed, were one a skeptic, the complete lack of technical specification might lead you to think that, despite their seeming production-readiness, most of these EVs won't appear until the second half of the decade.
Article content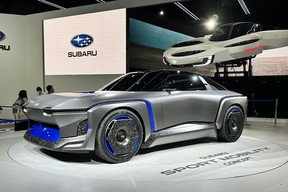 That, as it turns out, might not be such a bad idea. The very same day that Mazda, Toyota, et al, were wowing us with their renewed commitment to all things electric, Reuters was devoting much of its Auto File news page to reminding us "More alarm bells sound on slowing demand for electric vehicles." Citing the fact "high interest rates are derailing the ambitions of climate regulators and automakers to accelerate the shift to electric vehicles," author Ben Klayman detailed the many warnings emanating from legacy automakers.
On Wednesday, it was General Motors and Honda scrapping their plans for jointly-developed budget-priced electric compact crossovers. It was also the very same day that South Korea's LG Energy Solution warned that "EV demand next year could be lower than expectations." And just days before, The General had warned that long-term volume targets — essentially its promise to sell 400,000 battery-powered vehicles by mid-2024 — were no longer part of its share price guidance. Sales are still growing — by some 49 per cent globally last year — but the rate of growth looks to be slowing down, particularly in the United States.
Article content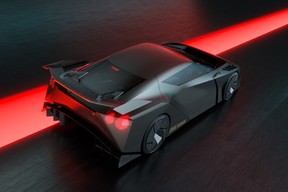 Even Tesla's Elon Musk is much exasperated by the profit-sapping effects of high interest rates, noting that "I just can't emphasize this enough that the vast majority of people buying a car is about the monthly payment." Ford, of course, recently garnered headlines for reducing production of its Ford F-150 Lightning, a vehicle, I'll remind you, it once boasted it had to stop taking orders for, when "reservations" hit 200,000. GM, meanwhile, announced just last week that it was delaying the rejigging of a Michigan plant originally scheduled to produce battery-powered versions of its fast-selling Sierra and Silverado pickups.
In Germany, Volkswagen cut its profit predictions for the year yet again, and, in China, the hottest market for EVs these days, CATL, the world's largest battery-maker, experienced its worst quarter in well over a year. Things are so bad that the price of lithium — predicted a year ago to sky-rocket as a result of increasing demand — is down some 67 per cent this year. Even cobalt, that much-maligned necessity automakers loathe so much — mainly because it's usually so expensive, and they have to buy it from the Republic of Congo — is down some 50 per cent in the last 18 months.
Article content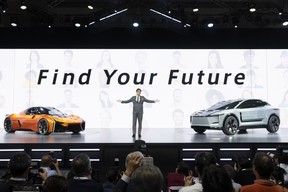 The problem isn't sales, but expectations. As I said, global EV sales grew by a 49-per-cent increase the first half of the year, an excellent result, but not matching last year's 63 per cent. The "abrupt slowdown in EV sales is a contrast to a year ago," says the Wall Street Journal, when carmakers were caught flat-footed by "long waiting lists for battery-powered cars and trucks." Many have since spent tonnes of money — with plenty of governmental subsidization to boot — building battery plants to service what they expected would continue to be exponential growth. Instead, what was once scarce and commanded a premium is now discounted and sitting unloved on dealer lots as inventories of EVs have grown dramatically.
Article content
The irony in all of this is that part of Toyota's original reluctance to dive headlong into EVs was chairman Akio Toyoda's contention that the industry should hedge its bets by continuing to develop hybrid and ICE-powered vehicles. Said reluctance caused Toyota all manner of grief and was part of the reason Toyoda stepped down as CEO of the world's largest automaker. But now, according to an article the WSJ filed from the auto show, he may be now enjoying an "I told you so" moment, telling Japan's Automobile Manufacturers Association on Wednesday that "People are finally seeing reality."
In other words, being late to the EV party could yet turn out to be a blessing for Toyota and other Japanese marques. Only time will tell if they failed to "catch the wave," or accurately predicted that mainstream consumers weren't quite ready to make a wholesale shift to EVs.
link